Senzala London workshop with Mestre Zumbi
Senzala London presents our intensive training weekend with Mestre Zumbi (Senzala New York) from 27 – 29 May. There will be classes of Capoeira, Afro-Brazilian dance, Yin yoga, music and also a PARTY to celebrate this special weekend.

Event prices: £60 (all 3 days in advance)
£15 Friday only
£25 Saturday
£25 Sunday
Venue for all 3 days: Haverstock School, 24 Haverstock Hill, Chalk Farm
Friday 27th May
7pm – 9.30pm Workshops and roda
Saturday 28th May
12pm – 2pm Workshops and roda
2pm – 3pm Music and singing class
3pm – 3.30pm Lunchbreak
3.30pm – 6pm Workshops and roda
8pm Party @ Guanabana, 85 Kentish Town Road, Camden Town. £5 entry
Brazilian party celebrating Capoeira, live music with Silva playing lots of samba, reggae, forro and much more. Invite your friends and join us!!
Sunday 29th May
12pm – 1pm Warm up roda
1pm – 2.30pm Acrobatics class
2.30pm – 3pm Lunchbreak
3pm – 4.30pm Dance class
4.30pm – 5.30pm Yin yoga
5.30pm – 6pm Goodbye roda
Facebook event page: https://www.facebook.com/events/661547350660364/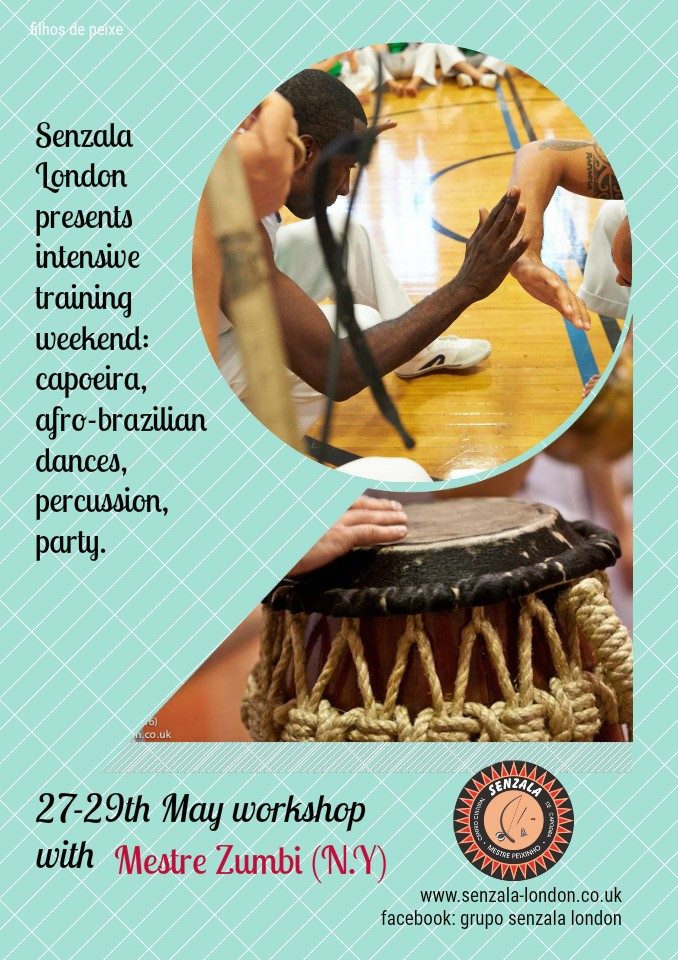 Please register for the event, you will be contacted shortly after we have received your registration form.