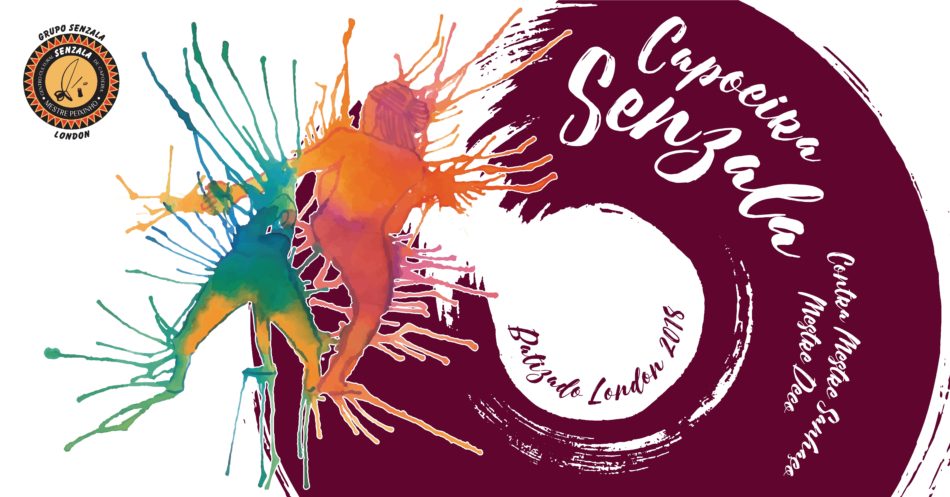 All are welcome! Our 2018 capoeira batizado will take place from the evening of Friday 30 November till Sunday 2 December.
There will be special guests, capoeira & other workshops, rodas and of course… our infamous party! Come join the celebrations.
We are excited about these very special guests who will join us:
Mestre Gato (Grupo Senzala – Rio de Janeiro, Brazil)
Mestre Flavio (Grupo Senzala – São Paulo, Brazil)
Mestre Pedro (Grupo Senzala – Cambridge, UK)
Mestre Rodriguinho (Grupo Senzala – Canberra, Australia)
Mestre Timba (Grupo Senzala – Geneva, Switzerland)
Contra Mestre Baiano (Grupo Senzala – Aberdeen, UK)
Contra Mestre Coqueirinho (Grupo Senzala – Stockholm, Sweden)
Download the schedule and event info.
Registration has now closed but you can still turn up on the day to take part in the workshops – just bring cash.
Batizado venue: Maria Fidelis Convent School, North Gower Street, NW1 2LY
Prices
Please note that the early bird tickets are no longer on sale.
Whole weekend (Fri, Sat, Sun, t-shirt) £90
VIP whole weekend (also includes drawstring bag) £95
Just Sat & Sun (incl. t-shirt) £70
Just Sat £40
Just Sun £40
Just Fri £25
Visiting students from outside the UK: Whole weekend £80 incl. t-shirt
SOAS students: Just Sat £20, just Sun £20.
Party
Join us for our party at Il Fornello, Southampton Row from 10pm – 2am. £5 entry. If you'd like to have dinner with us beforehand, let us know on the Facebook event page.