Join us in London for our capoeira batizado event – an annual grading ceremony celebrating Afro-Brazilian culture.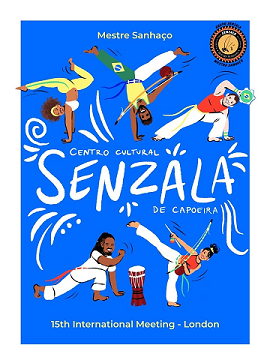 Fri 3 – Sun 5 Dec
Special guests
Mestre Pedro, Senzala Cambridge
Mestre Hiram, Capoeira Club London

Mestre Israel, Birmingham
Contra Mestre Negoteta, Guardiões Brasileiros
Contra Mestre Baiano, Celeiro de Bamba, Aberdeen
Plus more TBC!
Update 01.12.21: Because of new Covid restrictions in the UK, M Torneiro and CM Covinha from France are unable to attend.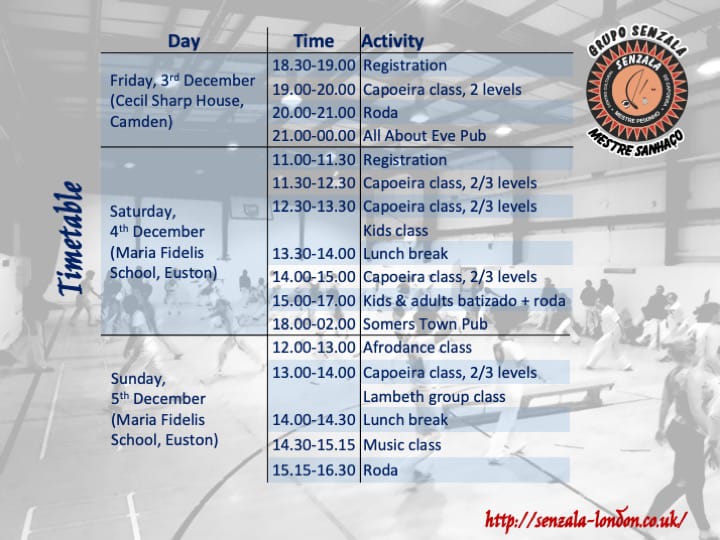 Venue info:

* Cecil Sharp House, 2 Regent's Park Rd, London, NW1 7AY. Nearest tube: Camden Town
* All About Eve, 31 Jamestown Road, London, NW1 7DB. 
Nearest tube: Camden Town
* Maria Fidelis Catholic School, 1-39 Drummond Crescent, London, NW1 1LY. Nearest tube: Euston. Facilities: changing rooms, showers.
* Somers Town Coffee House Pub: 60 Chalton Street, London, NW1 1HS. Nearest tube: Euston.
COVID-19 safety

Please take a lateral flow test within 24 hrs before the event, and show us proof of your negative test upon arrival at the registration desk. More information (PDF)