Centro Cultural Senzala London is celebrating its 15th anniversary this year.

To celebrate, we're posting a series of interviews with our teachers so you can get to know them a bit better.

In our third blog post, we'd like to introduce you to Roland who teaches in West London.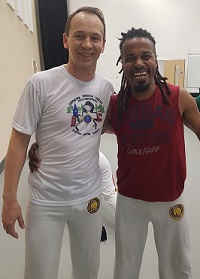 Tell us a bit about yourself.
– When and where did you start training capoeira, and why?

I originally started capoeira at university in London with the group 'Amazonas'. This group was run by three siblings from Fortaleza, and had no master or belt system. In between I stopped twice, but came back to capoeira as I could not stay away. After that, I trained for one year in São Paulo with a small group called 'Zungu' then I joined Senzala London in Summer 2013.

The apelido from my first group was 'Bate Papo' [chatterbox], which was given to me at a capoeira event in Amsterdam. This name is not used anymore; everybody knows me now as 'Rolando'.
Your personal journey
– Why do you still train capoeira, what keeps you interested and motivated?

Actually capoeira is a lifestyle; it keeps you fit and is a lot of fun, has a social element and you learn new skills.
– What are your favourite parts about capoeira?

I started to teach a small class on Fridays in West London in October 2014. It is great to see how students progress and develop. Capoeira is quite challenging as it involves not only movements but also playing instruments and singing in Portuguese. Most people find it very challenging to develop all aspects of capoeira – my personal challenge is the singing and music element. I enjoy the diversity of the people and backgrounds of each capoeirista, as well as the depth of the history and culture, and the connection to different dances and practices.
– What advice would you give to someone thinking about trying out capoeira?

Do it like children do, and like how they learn – they just have fun and don't worry about how things may look.