Centro Cultural Senzala London is celebrating its 15th anniversary this year.

To celebrate, we're posting a series of interviews with our teachers so you can get to know them a bit better.

In our second blog post, we'd like to introduce you to Foo who assists with children's classes.

Tell us a bit about yourself.
– When and where did you start training capoeira, and why?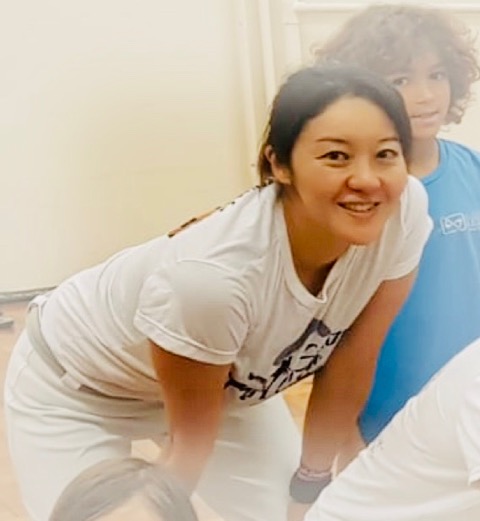 My first encounter with capoeira was in the year 1999. I watched the amazing street dance show at the Peacock Theatre in London where they had various street dance performances – not only capoeira but also hip hop, breakdance, be-bop, salsa, lindy-hop and old skool jazz. I was dancing swing and jazz regularly at that time but fell in love with capoeira instantly and have been practicing ever since.
– What's your capoeira name /meaning / who gave it you and when?

Aruanã [EN: arowana] is my capoeira name. It is a kind of fish. In Asia, it is also called 'Dragon Fish" and believed to be the one that brings good luck and health in accordance with feng shui teaching. The fact that a mother aruanã keeps her children in her mouth and protects them from any dangers was actually the reason I was given the name Aruanã by my first capoeira master, because I was always coordinating and looking after our capoeira team's activities at that time.

Your personal journey
– Why do you still train capoeira, and what keeps you interested and motivated?

I still remember the day I actually had to give up practicing capoeira due to a serious shoulder injury. After many years had passed, I decided to start practicing again. I believe that capoeira has always been in my soul. It was such a joy to find the Centro Cultural Senzala London team to train capoeira with again.

– What or who inspires you, and what are your favourite parts about capoeira?

A good energy and positive vibes inspire me – and also, all of my capoeira friends. My favourite thing about capoeira I would say, is MUSIC! It brings so much energy and fun into our capoeira roda when we play. I love the children's cheerful singing, too. That always makes me smile.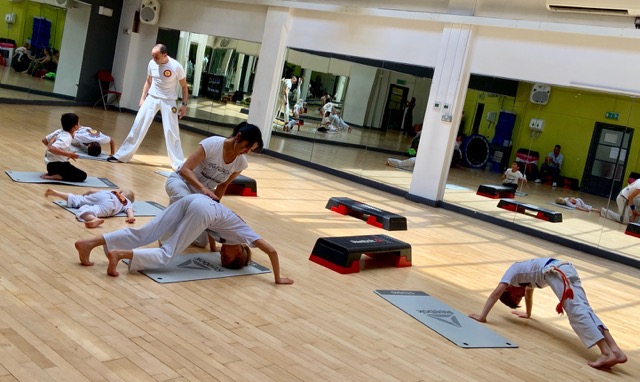 Your classes
– How long have you been teaching/assisting? Why did you choose to teach/assist with classes? What do you enjoy about it the most?

I have been teaching our children's classes for a few years. It started quite organically as my job allows me to have some free hours during the daytime, plus I have experience in teaching kids some different dances in the past. Thanks to my capoeira master Julio Sanhaço for giving me this great opportunity to assist his kids' classes. Children having fun when we practice capoeira together – that really is the best thing for me and I enjoy the most!

– Tell us a bit about your classes – what's your teaching philosophy? How do you plan classes?

Every class is good fun and everyone feels happy about capoeira; that is the only philosophy in my teaching. From time to time, I ask children at the kids' class if they are happy about their capoeira and/or what capoeira really means to them.

Teaching plans depend on the size of the class and the venue size as well as kids' age groups. Sometimes we divide our class into several groups in accordance with their age since children's motor coordination skills, levels of endurance and strength are different depending on their age. It is also good to use any available facilities at venues such as mats, balance balls, steps, hula hoops, jumping ropes etc in order to create more fun ways of practicing capoeira. We often plan something special towards the end of term for children to shine. For example, to give them a performance opportunity to show what they have learnt and achieved in capoeira. This is also a great opportunity for parents and spectators to seeing their child's progress in capoeira.

– What advice would you give to someone thinking about trying out capoeira?

For any children (and their parents): just try and have a fun with capoeira. There are various physical movements and exercises to improve their motor coordination skills through capoeira practice. But it is more important for them to enjoy when they're learning something new! capoeira is a very unique martial art which always has music alongside it, so that singing and playing music instruments can add some extra fun and happiness into their learning.