UPDATE: Due to the current COVID-19 restrictions in London, in-person classes for adults are on hold until further notice. Please join us via Zoom at the times below.
Online: Go to www.zoom.us/join, enter meeting ID 893 365 8963. Please register with M. Sanhaço for password details.
£10 per class, £18 weekly or £70 per month.
Tues & Thurs 7pm – 8pm
Sat 1pm – 2pm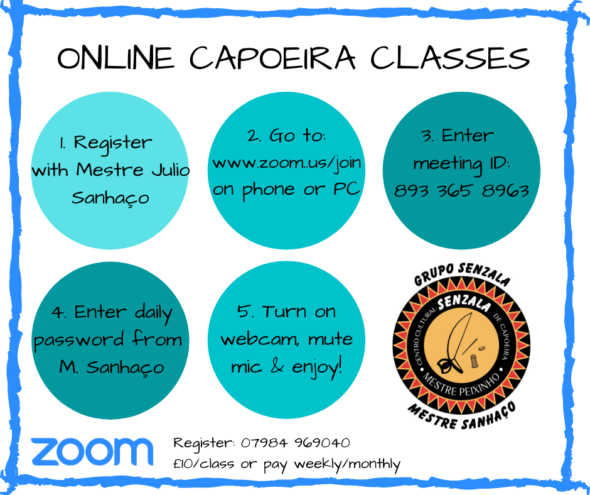 [On hold] Adults:
Tues 7-8.30pm mixed level @ Maxilla Social Club
Thurs 7-8.30pm mixed level @ Maxilla Social Club
Sat 1-2.30pm mixed level (usually near King's Cross or North London, please check with us for the venue)
Venue: (Tues/Thurs) Maxilla Social Club, 2 Maxilla Walk, London W10 6SW.
Nearest tube: Latimer Road (Circle/Hammersmith & City lines).
Entrance: Under the bridge, look for the graffiti sign.
Please read our coronavirus policy in advance, to keep everyone safe.
What is capoeira?
Capoeira is a Brazilian martial art incorporating dance, music, self-defence and acrobatic techniques, using spectacular kicks and movement in a unique combination. With a fun and welcoming atmosphere and community, all levels are welcome for a good workout and to learn more about this rich cultural tradition!
Our master is Julio Cesar Alves de Oliveira – "Mestre Sanhaço", a red belt student of the great Mestre Peixinho. He's part of Grupo Senzala from Rio de Janeiro and has been practicing capoeira for over twenty years.