Centro Cultural Senzala de Capoeira – London proudly present our May workshop on the weekend of 31st May-2nd June. Celebrating our 15th anniversary we'll have a very special event with special guests, lots of classes, music, party and the vibrant energy of Senzala London students. Confirmed presence of Mestre Deco, CM Coqueirinho, Professora Cenoura and lots more to be confirmed. You are welcome, please register now! Unmissable!!

If you are planning to attend PLEASE REGISTER and join the Facebook event page for the latest information.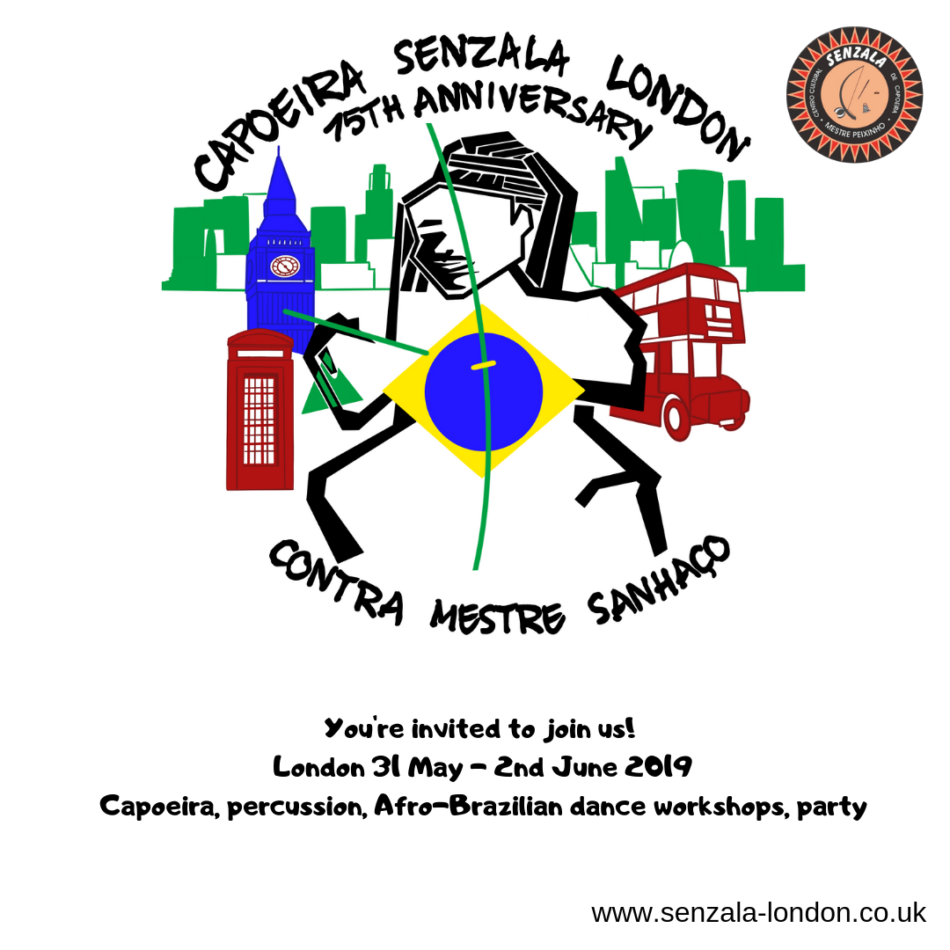 EVENTS PROGRAM
FRIDAY 31ST MAY
6.30 REGISTRATION
7.00-9.00 WORKSHOP AND RODA
SATURDAY 1ST JUNE
10.00-14.00 CAPOEIRA WORKSHOP ALL LEVELS
14.00-14.30 LUNCH BREAK
14.30-16.00 CAPOEIRA WORKSHOP & RODAS ALL LEVELS

20.00-02.00 DINNER / PARTY
SUNDAY 2ND JUNE
10.00-18.00 WORKSHOPS (ALL LEVELS) & RODAS
EVENTS PRICE
EARLY BIRDS £65 (ONLY 15 PLACES AVAILABLE) UNTIL 10TH FEBRUARY
£75 (UNTIL 20TH MARCH)
£85 (21ST MARCH-21ST APRIL)
£90 (AFTER 21ST APRIL)
PER DAY
£30 FRIDAY
£40 SATURDAY OR SUNDAY
Payments can be made by cash or bank transfer, please contact CM Julio Sanhaco for details.