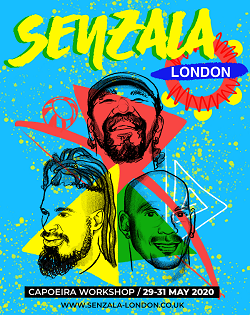 UPDATE: Unfortunately this event has been postponed due to the Covid-19 pandemic. We'll let you know the new date when we are able.
Join Grupo Senzala in London for a very special capoeira event. Mestre Sanhaço will be joined by Mestres Toni Vargas and Marinaldo for a weekend of workshops.
These very experienced masters will share their knowledge with us during a full weekend of intensive training, with capoeira, Afro-Brazilian dance class, discussions, lots of fun and obviously our famous party with our unique crew.
Don't miss out on this special event – register now!
Coming from outside of London? We will be happy to host you – please indicate this on the form.
Event details
New dates TBC

Facebook event page
About our special guests